Food Safety Management Systems (for Food Packaging Manufacturers)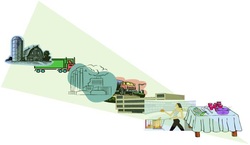 The Global imperative for a safe and reliable food supply has redefined the relationship of all elements along the food supply chain. From "Farm to Fork" a global standard for contractual assurance of that safety has evolved. Unlike the top-down enforcement of food safety requirements by government agencies such as the US FDA, the new system takes to form of expansive bottom-up contractual expectations between buyers and sellers at all levels of the food supply chain.

Contract requirements address (1) risk/hazard analysis; (2) god manufacturing practices and (3)core "management system" practices. The last element assures that what a sellers says it will do for food safety is done regularly. ISO 9001- certified (Quality Management Systems) organizations will recognize the elements of management commitment, documentation, training, internal auditing, record keeping etc.repeated in the Food Safety Systems Management Standard (ISO 22000). IN Fact ISO 9001 status makes ISO 22000 implementation much more accessible.

Along with these three elements comes regular certification to Global Standards by independent third part auditors. Much like Certified Public Auditors who are trusted to reflect the financial status of an organization to its financial stakeholders, Food safety auditors are trained and experienced in reflecting the food safety status of an organization to its food supply chain stakeholders. Unlike the one set of generally accepted accounting principles to guide auditing of financial accounting practices manufacturing and service providers in the food supply chain have many and varied products and processes. These differences along the supply chain are addressed by Global "Prerequisite Programs" developed for major food chain activities. These help guide the preparation and auditing of organizations in the chain.
---
Flexpacknology assistance to Food Packaging Manufacturers with
​Food Safety Management Systems
Tom Dunn is trained and accomplished as a HACCP Manager and trained and attained in Implementing SQF Systems (Post Farm-Gate) and IFS PACSecure

Flexpacknology is not a qualified Food Safety Management Systems auditor.

The firm however offers a range of services, including:
Training for associates in the basics of the system
Providing pre-audit assessments before an initial certified audit
Advice on integrating food safety management elements into existing quality management systems
Assistance with and review of hazard analyses.
Packaging technical expert services for certified auditors lacking packaging qualifications.​
(C) Flexpacknology llc 2017