Principles
As simple as 1,2,3,4,5-ABC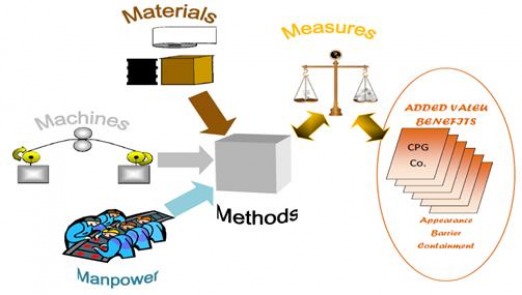 5 'Ms' of Flexpack Converting
Flexpacknology llc views converting flexible as a

manufacturing

process which adds value to raw

materials

.

Machines

,

manpower

,

methods

and

measures

are the additional manufacturing assets that contribute to

packaging's value

.





That

value

is relative to the

benefits

of the packaging to the product. Those benefits are generally

Appearance

(identifying the product and supplier, brand, quantity, use suggestions, etc.)

Barrier

(e.g. keep oxygen and light out, keep moist products moist.), and

Containment

(e.g. portion control, multipacks, easy open, reclose).





The features of packaging function as benefits for its product. The total value of the packaging to the product is also relative to its cost. As benefits increase, value increases. If price increases without simultaneously increasing benefits, value falls.



Adding features to packaging usually adds cost, and an expectation of an increased price. If those features can add benefits to the products, the packaging is more valuable and worth a cost increase. If not, the packaging is actually less valuable.
Decreasing the price of packaging by taking cost out it of is a verified strategy for increasing its benefits to products. If raw material costs are essentially equal across the marketplace, machines, manpower, methods and measures are the remaining supplier assets that can contribute to lowering costs (increasing benefits!).Reinvesting in state-of-the-art machines and the technology they bring is an effective cost-cutting tactic. It follows that other assets (the 4 remaining Ms) must adjust to secure the maximum cost saving opportunities of the new machines.
A focus on materials, manpower, methods and measures (the other 4Ms) with continuous process improvement opportunities can also deal with manufacturing costs. The effect can be multiples of the cost reductions from new machines with much lower initial investment. (Consider that the other assets must adjust for the new machines as well).
---
---
© 2017Flexpacknology llc.